Quarter Beef Share, October Delivery $5.00/# Includes Processing and Delivery! Deposit
Available in October, this share includes meat, standard processing (additional charge for premium packaging or processing like snack sticks, flavored patties,etc), and delivery for 1/4 share of beef!
Buying right from the farm has never been easier. You'll enjoy farm fresh meat, raised responsibly, processed by a USDA inspected facility, and the ability to bring fun and flavor back to dinnertime! 
After your deposit has been paid, you will receive a survey to personally select cuts, packaging, and any other customizations you have your eye on!  This truly gives you the ability to hand pick exactly what you will recieve right to your doorstep!
We handle the raising, delivery to the USDA processor, your processing order, and delivery right to your doorstep.  If you select on farm pickup, you'll receive 20% of your deposit and pick up within 7 days at our farm in Garnavillo, Iowa!
The 1/4 share will yield approximately 130 lbs of farm fresh beef just in time for your family!  The hanging and final weight can and will vary slightly as every animal is different and every processing order is different. 
The $5.00/# is calculated on hanging weight (weight after the animal is slaughtered and before it is cut down into steaks, roasts, and ground beef) with an estimated total cost per 1/4 share being approximately $1,000.
As this is a deposit, once processing is complete, you will recieve a bill for the balance remaining!  The balance can be paid via cash, check, or credit card.
Frequently Asked Questions
When will my beef share be ready?  Check out the tile above, your beef share will be ready in May or June!  We will email you during the process so you know exactly when to expect your beef!
How long does the beef age for?  Your beef will be aged 14 to 21 days as is typcial for the highest quality, most tender, and flavorful beef!
Why is buying bulk, farm fresh beef my best option? 
The value- it is an economical way to purchase meat. 
The peace of mind- know your freezer is full and you do not have to worry if what you need will be in stock or not at the store.
The consistency and quality- T-A animals are born on our farm and raised to a very specific standard from genetics through feeding and processing.  You will always know and have confidence in what you are getting!
The convenience- fill your freezer decreasing your meat budget each month and increasing your access to the best meals for your family daily.
The support local- you get first hand access to your farmer to ask and questions and provide feedback you have!
The guarantee- you are supporting a family owned, Iowa farm where every dollar goes to things like improved infrastructure for the animals, daycare and daycare for kiddos, and the best way to raise a family ever!  Know exactly where your meat is coming from and never worry if it's really USA beef or not!
How are your cattle raised?  Our momma cows are on pasture year-round with supplemental high energy feed throguh a cover crop mix plus dry hay in the coldest weather to keep them healthy.  Calves are born on pasture and around 6 months they're weaned and are either moved to a seperate pasture or dry lot where they are fed a similar winter feed made of chopped cover crops, a little supplemental grain for energy, and dry hay.
What breed are your cattle?  You will receive carefully crafted meat from a Hereford cross animal.  Bulls and cows are selected for marbling and tenderness and come from a Hereford base herd.  T-A customers have fallen in love with the product and we continue to strive for this consistency and quality. 
Do you have references?  We sure do!  Shoot us an email or give us a call and let us know what you have your eye on and would like recommendations for!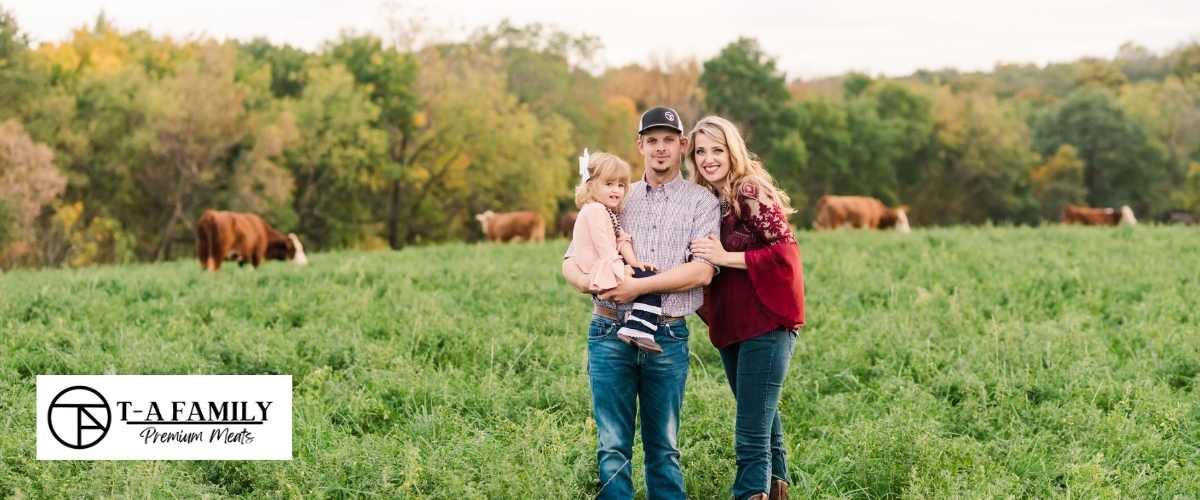 T-A Family Premium Meats
Pastured-based beef and poultry you can eat with confidence
Our mission is to serve other families with a connection to your farmer and a relationship you know and can trust. Our goal is to provide convenient, flavorful, and responsibly raised, nutrient-dense, pasture-based meat products.
Less than 10 years ago, Amos and Tina Troester struck out on their own to raise their family on their farm, land, and animals. Each brought dreams, passions, and together have transformed their path, mindset, and destiny to serving others in as sustainably, responsibly, and regeneratively as possible. They are passionate about giving families the flavor, nutrients, and convenience they've come to enjoy themselves as farmers through the meat they raise. Amos and Tina have an open-door policy and are avidly transparent in their farm and family. Amos and Tina believe busy families deserve the best reward at the end of the day, a satisfying, family meal. They hope you too can embrace what keeps their family close! 
Amos is a fourth-generation farmer who grew up on a dairy farm in Northeast Iowa. He fills his days planning and executing in the operation portion of the farm and business. Amos is the COO of the farm. He carefully serves our land and animals as best as possible through their health and well-being.  
Tina is a fifth-generation farmer who grew up on a dairy farm and then row crop and feeder pig farm in Northeast Wisconsin. She fills her days brainstorming, strategizing, and building plans for the farm. Tina is the CFO and CMO of the farm. She carefully serves our land and animals through keeping the backside pieces together.
June is a sixth-generation farmer who is growing up on a diversified livestock and row crop farm in Northeast Iowa. She is passionate about checking cows and fearlessly shares in as many chores as possible! June is the Why of the farm. 
Spur is a best friend, right-hand man, and caretaker of the farm animals and family. He carefully tends to his flock whether that be calves, chicks, or children!
Our Values
Responsibility                     
Our animals are cared for in the most stress-reduced environment. From working with calm people and dogs to transporting in small batches, we are careful to keep the cows, calves, chickens, and market animals as calm and comfortable as possible. If an animal has a temper, she will find herself on the short list off the farm as she is a risk for our other animals and family. A low-stress or stress-free animal will have lower fight or flight hormone levels and therefore create a more tender cut of meat for your table.  
Stewardship
We believe God has given us a tremendous opportunity to care for His land and animals. We are integrating regenerative practices like cover crops in our row crop and feed acres and intensive, adaptive grazing to enhance herd and pasture vitality and health.   
Transparency
Our open doors are the best doors. Every corner and practice on our farm is open to visit and talk about! We also provide transparency in labeling. Our products are in fact born and raised here in Garnavillo, Iowa, United States. No funny business on buying or importing meat here! They are also raised the same way we raise our children. No recreational treatments and doing everything we can to keep them safe, healthy, happy, and flourishing.