Grass-fed Beef Chuck Roast
Please sign in so that we can notify you about a reply
Arm and Chuck roasts - put either in the crockpot and 8-10 hours later, heaven. Don't take it out too early. Low and slow and long, folks, is the key to this roast. If you can add your veg in the last two hours, that will be ideal.What do you add to the crockpot to season the meat? Just mustard, ketchup, balsamic vinegar, and some butter, salt and pepper - will make it rich and familiar to everyone, even kids. If you don't have two cups of beef broth, water is fine. You don't need a lot of liquid, just enough to braise, which means cover about 20% of the meat._________Rotational Grazing is THE KEY to the making of our SALAD-BAR BEEF.Frequently moving cattle off grazed pastures to fresh ones has a beneficial impact on the soil, the pasture vegetation, and the animals."Sometimes my cattle are moved twice a day," says Jamie. "They love being moved to fresh pastures. When they hear me coming they start talking about it."She doesn't have to 'herd' them on to new pastures. They know where they want to be! As soon as she opens a hole in the fence for them between pastures, they GO! A chuck roast is cut from the shoulder region of the animal and has plenty of fat, so it's a rich cut that will cook down perfectly.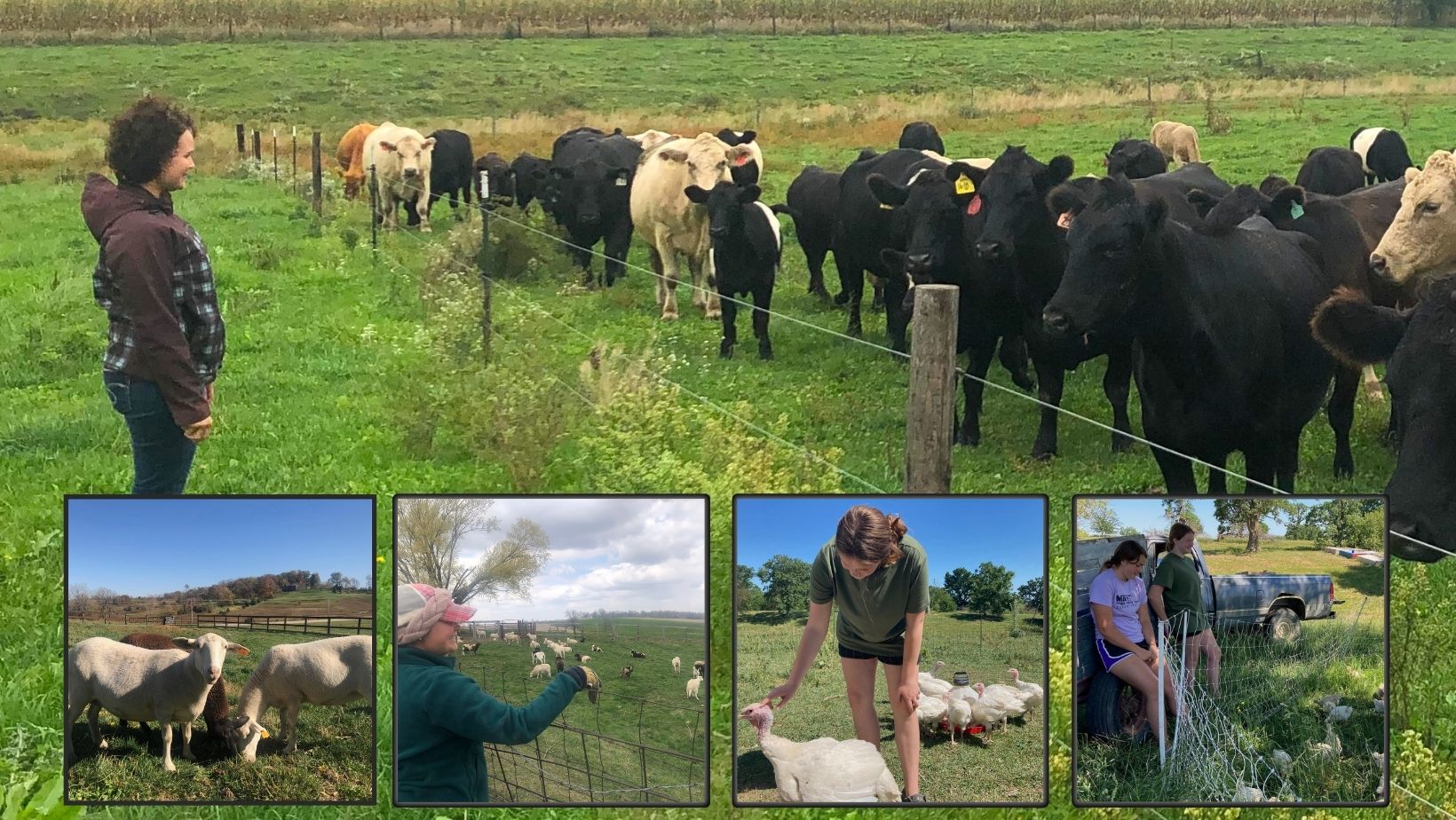 We are fifth- and sixth-generation farmers of east-central Iowa, contained within the Mississippi River Basin. Having spent our entire lives on the farm, Cory and I (Jamie) are happy to help train the next generation of farmers for you.  
Jaydon, Adeline and Luceille work beside us tending the animals, fences, equipment, or whatever else needs done that day. You will meet them at our pick up locations. They are just as involved as we are and likely just as competent. They love the vision we've created.  
Cory and I grew up in a more conventional model of farming, but have been transitioning into a more regenerative model of animal production for about a decade due to the indisputable health of every facet: the land, animals and humans we serve.  
Our goal is to eliminate the carbon footprint of meat production. 
The grass-fed and grass-finished beef is produced on rolling hills of clover, grass, alfalfa and whatever forbs the cattle choose to eat. They get new, fresh grass daily. Sometimes even twice a day. 
The pastured pork is fed non-GMO grain and these happy piggies live largely in the timber where they disrupt the earth and eliminate brush and weeds while living their free-range and contented lives.  
The pastured poultry is moved to fresh grass daily in their portable cages (as protection from predators), leaving behind a trail of fertilizer, and always have choice access to non-GMO grain as well.  
The true heroes of the farm are the laying hens. These girls cover miles in a day, cleaning up the pasture of weed seeds, bugs that inhibit production in the cattle, and scratching the fertilizer (cow pies:) into the dirt, making it readily available for grass growth in the next cattle rotation. Plus, they make delicious eggs!  
We do have our fair share of trials, including weather, the market and the ever-present shortage of time. This is nothing new to us, we've been doing this for our entire lives.  
However, we have a clear vision and mission no matter what the day may bring, and that includes the ability to feed YOU, making any sacrifice worth it! We cannot wait to meet you at our next pickup date:)
If you're looking for high-quality meat directly from farmers and butcher shops, you're in the right place.
ChopLocal is an online farmer's market just for meat. Farms and butcher shops set up their virtual tents and tables (we call it a microstore) and you can browse, ask questions, and purchase directly from them!
Want to find out more information about this particular cut of meat?
Head up to the upper right hand corner of the screen and click "Ask a question." You'll be able to send a message directly to the farmer who raised it or butcher who cut it.
Want to know more about the farm or butcher shop listing this product for sale?
Click on the vendor name in the same area - you'll see information about their farm/shop and all of the products they have for sale.