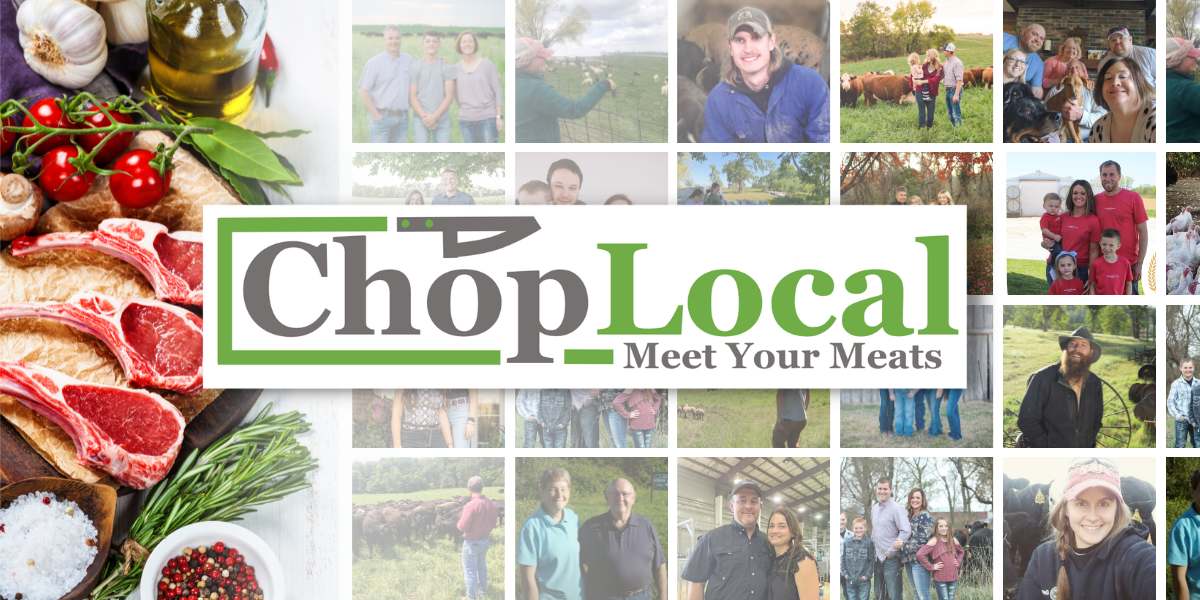 There are millions of online meat orders in the US every month...
But most of those purchases happen through major retailers or brands that import meat from other countries around the world.
When you ChopLocal, you're buying meat online directly from farms, ranches and small butcher shops.

NO national brands, no corporate shareholders, and no imports.

Just 60+ niche meat producers who put their heart and souls into raising and cutting the perfect meat for you and your family.

If you want to:
- support family farms
- purchase from small businesses
- choose meat that feels good for your family
- try something new
- help transform the meat supply chain

Then it's time to ChopLocal.
What is ChopLocal?
We launched ChopLocal in 2020 to make it easier for you to buy meat online from family farms and small butcher shops.
Think of ChopLocal is an online farmer's market specializing in meat. Each farm or shop has their own ChopLocal store and when you order, you're ordering directly from them.
Why buy meat online directly from farms and butcher shops?
Farms selling direct-to-consumer and the small meat processors they work with are an important part of rural America. When you buy meat online from them, you're supporting their livelihoods, their rural economies, and their communities.

You also get the benefit of finding out exactly how your meat was raised. You can ask the farmer or butcher questions via our messaging function, see pictures of the farm, and actually develop a relationship with the person who raised or cut your meat!
How to find farm-to-table meat near you:
1. Visit choplocal.com and scroll down to see the farms and butcher shops in your area - OR -  browse the map here!
2. Then order online and have it shipped to your door or pick-up at a farm or shop near you.
3. Your meat will be prepared by the farmer who raised it or the butcher who cut it... can't get much better than that!
No Local Options?
You can still have farm-to-table meat and seafood shipped to your door!
Fill up your cart with $49 in meat from a single farmer or butcher shop in your region and your order ships free!
Your Meat, Your Choice!
We get it. Different families have different priorities.

That's why we let you choose the type of meat you want.

✔Grainfed Angus beef
✔Grassfed, grass-finished beef
✔Mangalitsa, Duroc or Berkshire pork
✔Free-range poultry
✔Antibiotic Free
✔Budget friendly
✔Regenerative
✔Heat-and-Serve

You choose what's important to you, and we'll help you find it...

All directly from the farm or butcher shop.

Just head over to check out all of our farms and butcher shops, and search using the keywords that are important to you!
Learn more: