Our partners offer 2 ways to get your meats!
1. Pick-up in Store or at a designated location
2. Shipped to you door step!
Some partners do one, some do all to deliver the meats! You can see the options by selecting:
by each of the products. 
Our partners all have a wide array of shipping methods, while most of them ship only Monday - Wednesday every week look beside their products to see the most accurate shipping and pick-up information: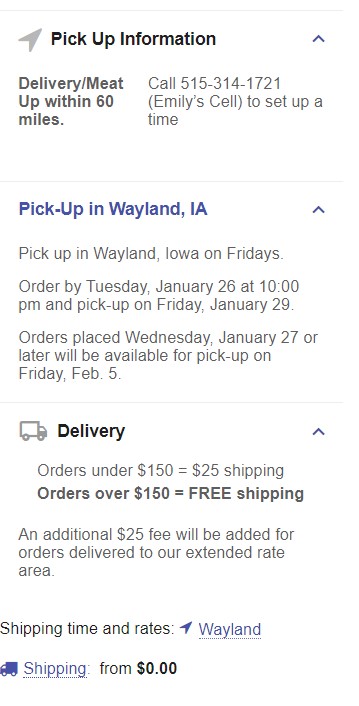 Your meat is delivered to you by peoples whose livelihood depends on providing you the best product! This means our partners pick this item and send it directly to your doorstep.  In order for us to provide you with the this level of quality and support we have implemented the following standard shipping charge:
$0-$49  = $25 Shipping (What it cost to box and ship)
$49+ = FREE!  (Thanks for the support! ... The shipping is on us!)
Extended Shipping Area = $25 Extra Charge ... Because we have to fly it to you to deliver the quality you expect!