New York Lamb Meat Sampler Bundle Box
Lamb Sampler Bundle Box A variety of ground lamb cuts and roasts typically including: 4-6 lbs of ground lamb 1-2 Roasts and/or kabob 1-2 Chops and/or shanks.
Each USDA Inspected, Frozen Package is approximately 10 Lbs
Ben Wever Farm - Heart and Harvest of the Adirondacks
We are a family-owned and operated intergenerational farm and our goal is to produce the finest, healthiest, most restorative soil possible.
We do this by tending our herd, shepherding our flock, overwatching our sounder, keeping our hives, and ranging our poultry.
Our results — healthy soil, our product — great Adirondack grasslands, and the dividend — delicious and unique tastes reflecting the stewardship of the land, the animals, and the "terroir" of raising beef, pork, lamb, and poultry in this most beautiful and bountiful place.
We want to be your farmer! Come by when you can (wear good farm shoes). We are at: 444 Mountain View Drive Willsboro NY 12996 or call 518-963-7447.
Our farm stand is open 24/7, 365 and we want you to see how we farm, stock, and show our passion for our land. See you soon.
ChopLocal Meat Delivery from Local Farms and Butcher Shops
How much does it cost to ship my meat order?
Shipping from this farm or butcher shop varies depending on the destination.
Preferred Rate Areas
Orders under $49.99 = $24.99 shipping
Orders over $49.99 = FREE shipping
Extended Rate Areas
Orders under $49.99 = $49.99 shipping
Orders over $49.99 = $24.99 shipping
Because ChopLocal sellers ship directly from their farm or butcher shop, these rates apply to orders from a single farmer/butcher.
*Please note, as you shop on ChopLocal, you may find products from other farms and butcher shops, and they may have different preferred/extended rate areas.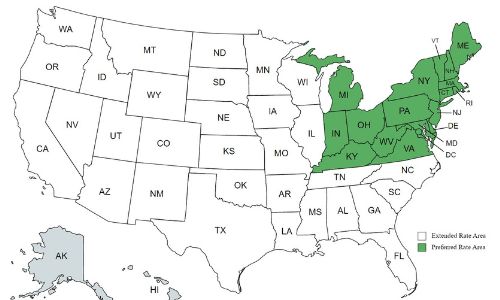 When will my meats ship?
ChopLocal farmers and butchers ship orders on Monday, Tuesday, and Wednesday unless otherwise noted. This is to avoid weekend delays and ensure that you receive your order in good condition.
Can I order meat as a gift?
Yes! Enter the recipient's address in "Shipping Address" and we'll send meat right to their door!
How is my order kept cold?
Each of ChopLocal's farmers and butchers ship directly from their farm or butcher shop, using insulated shipping containers and coolant to ensure your meat arrives in good condition.
Different sellers use different insulation and cooling products, so if you have questions about the specific products used, please contact the seller directly.
What should I do if there's an issue?
If you do not receive your order in a timely manner or the meat has thawed, please contact support@choplocal.com within 24 hours of delivery. Check out our refund policy for more information.